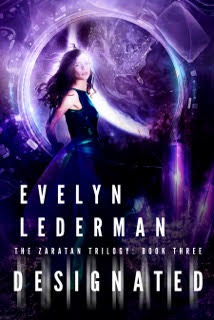 This is one book where excited fans have been contacting me about when the third book in the Zaratan Trilogy would be available. One 14-year-old Ft. Myers fan said she and her best friend were in competing camps…Team Matt and Team Jim. An author was texting me about a conference this September and her daughter had just finished 'Chosen' and wanted the next book. Fortunately, I had just finished the first draft of 'Designated' and reported the book would be available before the conference.
Although the books were released a year apart, I wasn't sure if I was going to be able to deliver 'Designated'. The problem? I wasn't sure how I wanted to end the series. When I was writing 'Chosen', I knew who the ultimate bad guy was. But who Kara would ultimately end up with was a struggle.
In 'Designated', Kara keeps changing her mind…probably because I was. I wanted to give everyone a HEA (Happily Ever After). When you have a love triangle, that's tough. I read one book where the author killed one of the male leads. My reaction, I threw the book across the room in frustration. Whether you like the Twilight books, I thought Stephanie Meyer masterfully resolved that triangle.
Below you will find the blurb (which I HATE writing) and vendor links:
A journey home…
New challenges to face…
An ultimate decision to be made…Kara Howard faces her greatest fear when she returns to Earth. She is now the purple faced alien who is designated to represent her new world. All her work to reunite families will soon meet its final test.No longer able to breathe her home planet's air, her future must be made galaxies away. Her life is further complicated when the mission is jeopardized by betrayal. Once again, Kara must choose sides in the ambiguous allegiances between families.
She walks a tightrope of her own making between the two men in her life. But her ability to make a final decision is compromised by new challenges aboard the ship. The girl who liked to disappear into the shadows continues to standout, making her a target.
Links: