I am thrilled to be part of The Worlds of Magic, New Mexico https://magicnewmexico.com/books/ which brings together 19 outstanding paranormal and science fiction authors to expand on the Magic, New Mexico series created by New York Times & USA Today Bestselling author, S.E. Smith.
Magic is a town where witches, aliens, vampires, werewolves, dragons, pirates, time travelers, and paranormal live. In Magic, being abnormal is the norm.
Here are my three books in the series: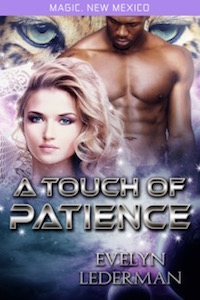 Buy Here:
Patience 'Pati' Harper does not possess the virtue her name depicts. She is the last witch in her family's line and feels pressured to bear a child, even though her temperament does not result in many second dates.
Being only one-quarter jaguar changeling, her inability to shift almost brought her ancestral line to an end when she was almost killed in her teens.
Danyal Zabare, a jaguar shifter, who grew up hearing stories about soul mates and is determined to settle for nothing less. He recognizes Patience as his mate the instant he lays eyes on her. Leaving everything behind, Danyal follows her through a portal to an unknown world.
Confronted with her past and a man claiming to be her future, Pati must evolve into what destiny demands. Will Pati's magic be strong enough to save her and two innocents from the violence of her past?
Enjoy another adventure set in S.E. Smith's Magic, New Mexico.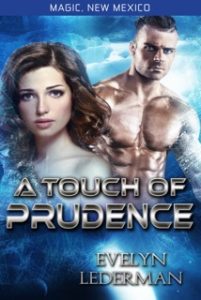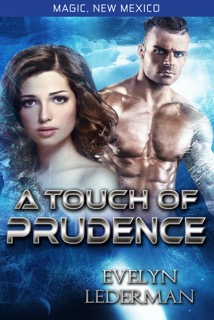 Buy Here:
Prudence 'Prue' Hardt never knew who her father was, only that he was from Magic, New Mexico, a town she hasn't seen in twenty years. Fearful of the power that she might have inherited from any number of mystical beings that live there, Pru knows she has no choice but to track down her paternal DNA before it is too late. What she doesn't expect when she returns home is to be drawn to a mysterious man, or to discover that her life is in danger.
Star Ranger Dreyden has been on one too many missions when he is ordered to a primitive planet to spy on a small town with unusual residents. His attitude toward his unwanted assignment changes when he spots a beautiful woman – and sees the patterns on her skin. Patterns that can only mean one thing – she is his chosen one. Resentment turns to cold determination when she is threatened, no easy task when she isn't exactly appreciative of his efforts.
Prue and Dreyden must work together as Prue searches for her father and struggles with her new powers. Dreyden knows that it will take a touch of prudence to convince Prue to trust him. Will he be able to protect her from the dangers that threaten their future while she learns to control the power she wields?
Find out in A Touch of Prudence.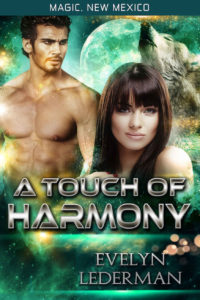 Buy Here:
All they need is a touch of harmony…
Harmony Neutron's new assignment brings her to Magic, New Mexico, where a devastating threat looms over the town. Her mission goes from bad to worse when she is forced to confront her greatest fear – of animals! She is sure that some cosmic force is laughing at her when she discovers that her Chosen One is none other than Chase Bishop – a werewolf.
Chase has been the unfortunate subject of his two best friends' unsuccessful attempts at matchmaking. Determined to stop their meddling in his life, he is shocked when a woman from the stars appears – and changes everything. Unfortunately, recognizing the woman is his mate does nothing to calm her fears of his werewolf.
Frustrated and helpless, Chase does the unthinkable and asks for assistance from a powerful witch to help ease Harmony's fear of his animal side. He doesn't have much time to convince her they belong together. A rogue governmental agency is after Harmony and determined to catch her at any cost. Will the spell give Harmony the time she needs to accept that their love is real, she can trust him, and he would never hurt her – before it is too late?
To curl up with each book and discover all the action that is Magic, New Mexico, please go to Magic, New Mexico https://magicnewmexico.com/books/.